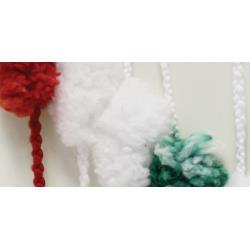 Bernat Puff Ball Holidays Discontinued Product
Regular price $ 4.99 USD Sale
 ***The products listed here are discontinued by the manufacturer. The quantity per item is all that is available.
Try out Bernat Puff Ball with this exciting scarf pattern - working with this yarn is easy because you work with the yarn between the puff balls for this great effect. (Bernat.com)
Bernat® Puff Ball 
(100 g/3.5 oz; 81 m/88 yds) 
07732 (Pink) 3 balls
Sizes 4 mm (U.S. 6) and 12.75 mm (U.S. 17) knitting needle
Bernat Yarn Notes:
Knit only with the yarn lying between each puff ball. One stitch will be worked between each puff ball. After each row, tug the knitting downward to ease puff balls into place. Puff balls should lie in grid-like rows between sts. One puff ball should lie vertically at the side of the knitting between the last st of the previous row and the first st of the next row.